Tips For Buying Jewelry Online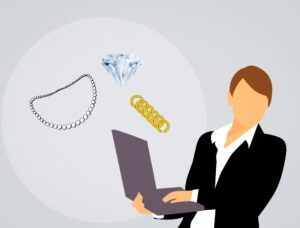 Online shopping dominates the marketplace today. From your everyday groceries to high-end luxury apartments, there isn't much you can't get your hands on through the internet. Jewelry represents a very broad category of items: watches, necklaces, rings, diamonds, crystals, etc., and navigating the many brands and styles can certainly be overwhelming. Knowing exactly how to commemorate special events, or simply purchase online with confidence, is no mean feat, so we have compiled some handy tips for buying jewelry online, helping make the experience more fun and that much easier.
First Things First
Before getting started, it is important to establish that the website you are using is reputable and secure. One way of guaranteeing this is to consult reviews because the truth is, people love validation. If someone says something is good, we get a bit more comfortable. Also ask trustworthy friends who might have already used the same company. Honest jewelers will describe their content clearly and without reserve, being upfront with the customer about exactly what to expect from the items they display.
Return Policy
For your own peace of mind, make sure to check the company's return policy. A good sign of a company's confidence in their product is a solid return policy. If you intend on making a more expensive purchase, this backup measure is all the more pertinent to your decision-making process and should formulate part of your research before buying jewelry online.
Labels
Whilst sticking to your favorite brand can guarantee you consistency in quality and design, perhaps you are paying more than you need to for similar, unbranded items. Some items that, for instance, are simply made of gold and crystal, but display a design-house name, command many times more value than their non-brand counterparts. The design and quality might even be better with the cheaper alternative, so be sure to check!
Diamonds
When it comes to buying diamonds, there are a few key features to look out for when weighing up your options. There are four principal elements that determine a diamond's value, the so-called '4 C's': cut, clarity, carat, and color. As each of these categories increase in perfection or size, the price of the stone can increase dramatically. Reputable websites will clearly display the details of their diamonds, in order to allow the customer to balance the quality of the gem against their budget. Don't simply look for the most expensive one you can afford and miss out on a better diamond being offered at a lower rate, compare and contrast.
Picture Perfection
You know how they say the proof is in the pudding? For jewelry, the proof is in the pictures. You want to see more and more images. The more up close they are, the better. Since you cannot hold the item in your hands, you have to rely on the pictures. Multiple detailed pictures are what you want to see on any website when purchasing any item.
Get Advice
If you are struggling to find an appropriate style or color in a gift, don't be afraid to ask! The best thing you can do, especially if buying jewelry as a gift for someone special, is to seek assistance from the people who are selling you their wares. They should want to help you make a suitable purchase every time you visit, so that you can be happy with their service and that your loved one will be happy with their product (and your discerning taste). Jewelers have many years of experience working with different people of different tastes; there will always be something they can do for you.
These tips will ensure you get the best value for your money. Buying jewelry is always fun, but whether you purchase online or buy in store, you have to be smart about it.